"I've never seen a Lindy Hopper who wasn't smiling. It's a happy dance. It makes you feel good."
- Frankie Manning
Authentic swing dances include a big variety of social and performed dances from the 1920's to 1940's. Spreading swing dancing in modern society means inspiring people to connect with jazz music, themselves and each other. We offer engaging, precise and fun teaching from the first course on. And we make sure your dance time is not limited to the lessons.
Lindy hop, Shag and Balboa for dancers of different levels and with different aims. Get started or get better - check which course would suit you.
---
What do we dance
We focus on teaching and practising authentic jazz dances. These dance forms from America's 1920's to 1940's are all marked by their development as social dances. They also formed the roots for many well known modern street dances. Thanks to the large swing dance revival of the 1990's they are now more popular than ever before and inspire people all over the planet to dance with each other.
At the moment we offer teaching of Lindy hop, Balboa and Shag in Tampere, Helsinki and Jyväskylä.
Lindy Hop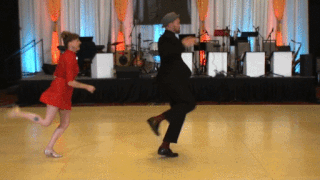 Lindy hop, also called Jitterbug, is known as the "original" afro-american swing dance, which evolved during the American Jazz era in Harlem, New York. This rhytmic and joyful couple dance can be danced to fast and slow jazz music as it was played e.g. by Duke Ellington, Count Basie or Benny Goodman. Lindy hop experienced a huge revival in the 1990's and has since then spread all over the planet. Are you ready to be part of the revival and swing out with us?
Balboa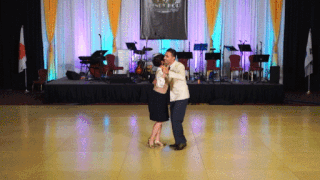 This dance was born in California in the second half of the 1920's. The music of choice for Balboa is uptempo swingmusic. Balboa was danced in crowded ballrooms, which led to most of the dance to happen in closed position focusing on sophisticated partner connection and fancy footwork. That form of the dance is nowadays often referred to as Pure Balboa. With time dancers started opening the tight closed position and integrating flashier moves, which is today often called Balswing. Balboa gives the dancers challenging footwork and connection rewarded with a floating feeling.
Collegiate Shag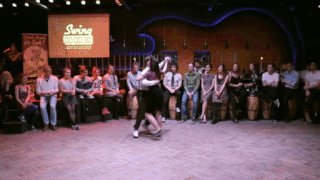 Collegiate Shag is one of various historical shag dance forms which became popular in America during the 1920-1930s. The fast footwork and energetic style as well as a hilarious easy-going attitude are the probably most remarkable characteristics of the dance. Shag was originally danced to Ragtime but was adapted other styles like swing and R&B music. The tempo scale ranges from mid-tempo to upper tempos. Shag can also provide Lindy hoppers with some new ingredients for their dancing.